A developer has submitted a new application to redevelop the Bayview Village Shopping Centre, which has been greeted with some questions and skepticism by the local community. The master plan is making its way through the City of Toronto planning process.  
QuadReal Properties Group has applied to build five residential towers of varying heights up to 33 storeys that would be constructed on portions of both the north and the south parking lot areas in addition to expanded commercial space on the Bayview Village site. 
The city planning staff report identifies a number of issues that need to be resolved, including building height, density, scale, built form and massing.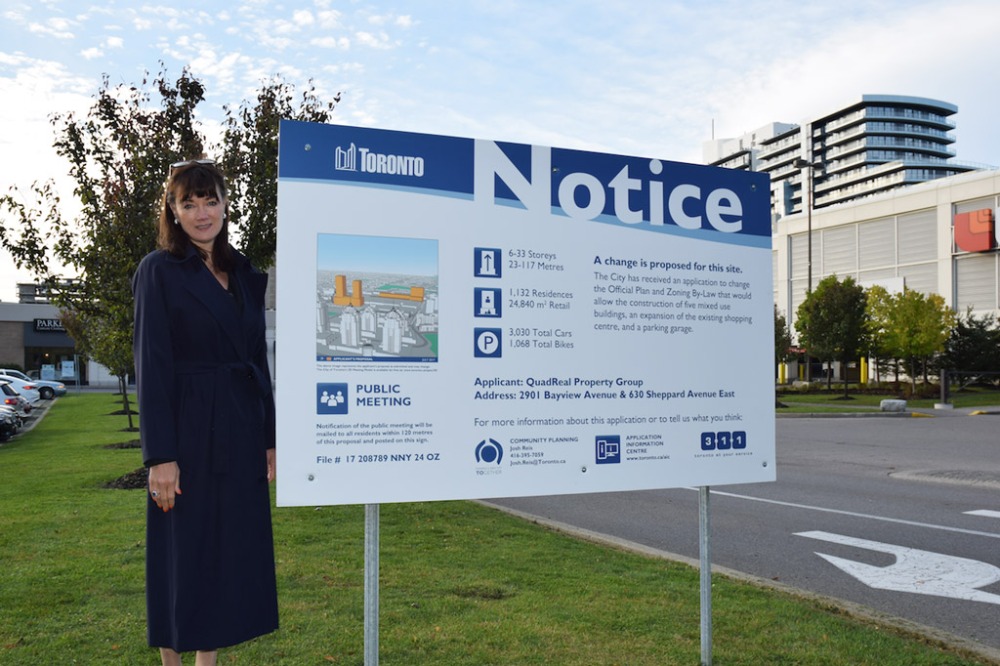 victoria Joly, Chair, Municipal and Government Affairs Committee, Bayview Village Association | Source: Post City Magazine

Victoria Joly, spokesperson for the Bayview Village Association, expressed the group's concerns about the proposal at a North York Community Council meeting held last month.  
"We're strongly opposed to the height and density of the proposal," said Joly, before she added that the developer does seem willing to work with residents. 
"[The developer] has been very forthcoming in trying to solicit and engage the local community," she said.
Councillor David Shiner, of Ward 24, Willowdale, called the development "very aggressive" but noted the application is still in its early stages with much work to be done. 
He said additional community consultation meetings will be held later this year. 
"I'm sure we're going to have a full house," Shiner said. 
"We extended it to have two meetings, one for the residents east of Bayview, and one for the residents in councillor Filion's area that is west of Bayview," he said.
Toby Wu, senior VP, development, eastern Canada, of QuadReal Properties Group, said the vision is to make Bayview Village an "experiential lifestyle" hub that incorporates residential, transit and retail into an already unique community. 
He said the company realizes that the community holds Bayview Village "near and dear to their hearts" and said they're "committed to taking a very collaborative approach with all stakeholders."

City of Toronto Development Projects and Applications
(City of Toronto Development Projects)

Did you know that you can search for homes and commercial properties in our Bayview Village Community that currently have a planning application submitted to the Committee of Adjustment for renovation or redevelopment?

Simply access the City of Toronto Development Projects web page via the link provided above, and select
· Committee of Adjustment;
· City District: North York;
· Ward 17: Don Valley North;
· Optional: enter specific property address or simply search all and use the map tool to locate the property.

This handy search tool provides you with the application reference number that enables you to search for the specifics related to an individual application.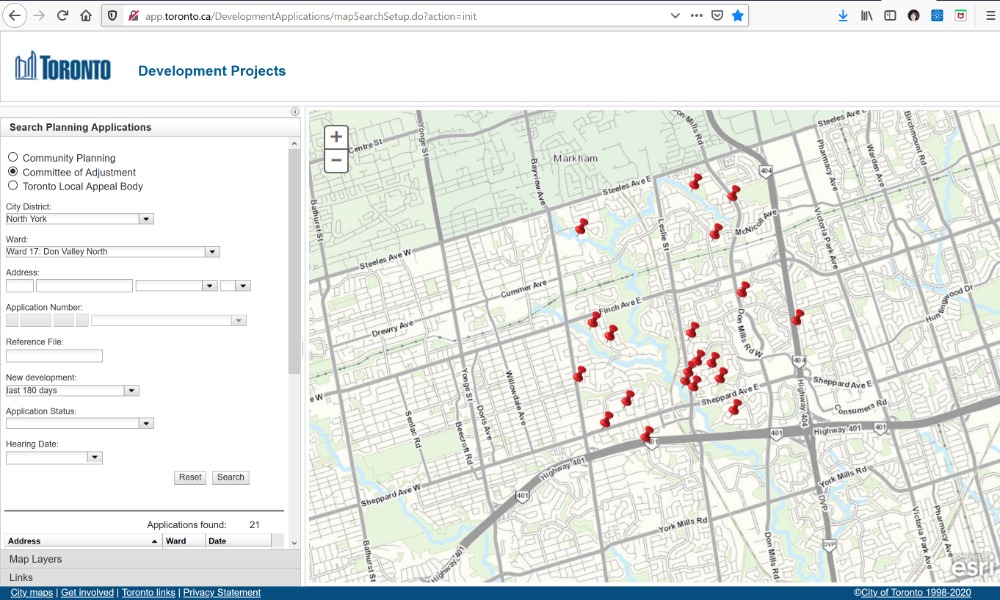 As well, the linked information will provide you with the name and phone number of the City of Toronto Planner assigned to the file should you have any questions related to the components of the application or its status.

We must warn you, once you get the hang of this great tool – you'll be on this site for hours.  It is one of the most interesting web sites for information on residential homes as well as commercial development happening in our neighbourhood.
Government and Municipal Announcements


Stage 2 Reopening Starting June 12 Except Golden Horseshoe Region
(Posted June 10th, 2020 | Toronto Regional Real Estate Board "TRREB")
According to Ontario's regional approach to reopening the provincial economy, as of Friday, June 12, most regions in the province will be given the green light to move into Stage 2 of the reopening. In consultation with the Chief Medical Officer of Health and local health officials, the government is easing restrictions in communities where it is safe to do so, based on trends of key public health indicators, such as lower rates of transmission, increased capacity in hospitals, and progress made in testing. At this time, the Greater Toronto Area (including Durham, York, Peel and Halton Regions), as well as Hamilton, Haldimand-Norfolk, Lambton, Niagara and Windsor-Essex have not been deemed ready to enter Stage 2.
As of June 12, Ontarians across the province, regardless of whether a region has moved to Stage 2, will be allowed to gather in groups of 10 (from the current limit of 5) and be allowed to congregate at places of worship at 30 percent capacity limit.
Below is a list of businesses and services allowed to reopen in regions entering Stage 2:
Select personal and personal care services with the proper health and safety measures in place, including tattoo parlours, barber shops, hair salons and beauty salons;
Shopping malls under existing restrictions, including food services reopening for takeout and outdoor dining only;
Tour and guide services, such as biking and walking, bus and boat tours, as well as tastings and tours for wineries, breweries and distilleries;
Water recreational facilities such as outdoor splash pads and wading pools, and all swimming pools;
Beach access and additional camping at Ontario Parks;
Camping at private campgrounds;
Outdoor-only recreational facilities and training for outdoor team sports, with limits to enable physical distancing;
Drive-in and drive-through venues for theatres, concerts, animal attractions and cultural appreciation, such as art installations;
Film and television production activities, with limits to enable physical distancing; and
Weddings and funerals, with limits on social gatherings to 10 people.
Click here to read Ontario's media release. The province is expected to address child care, summer camps and public transit shortly, and we will continue to keep Members updated.
Two Province of Ontario Announcements:
(Posted April 9, 2020 | Province of Ontario and Municipal Property Assessment Corporation)

2020 MPAC Assessments Postponed
Every four years, MPAC reassess the values of all homes across the province, which in turn dictates the values of the property taxes that homeowners need to pay each year. As part of the province's Economic and Fiscal Update on March 25, Finance Minister Rod Phillips announced the province's decision to postpone the 2020 MPAC Assessment Update due to the economic downturn and the financial challenges faced by many residents. As such, property assessments for the 2021 taxation year will continue to be based on the 2016 property values. This is welcome news to homeowners given the increased values of homes over the last few years in the GTA, and in particular for Toronto residents who are faced with an increase in property taxes to support transit and housing projects as part of the 2020 approved municipal budget. For additional details on the MPAC decision, please click here.