2021 BVA Membership

 - $25/year
  Join online or by mail-in now, and your
  membership is valid to the end of 2021.
  Existing BVA members can renew here.
BVA Virtual Town Hall & You're Invited!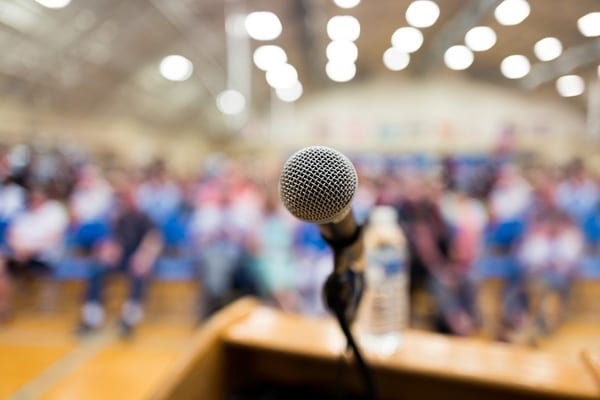 When: Monday, November 9, 7-8 PM
Topics: Municipal and Government Affairs, BVA Membership, and Communications in Bayview Village
Who: Open to All Residents of Bayview Village and surrounding areas
Email for registration/questions: [email protected]
Residents of Bayview Village, you have a prime opportunity to weigh in on the Bayview Village Mall development as well as get a full update on other developments that impact our community. This on-line and call-in presentation will be followed by a question and answer session where all Bayview Village residents can make their voices heard. You can register and even submit questions prior to this Virtual Town Hall by e-mailing [email protected] (just write "register for Town Hall" in the subject line and you will be sent a Zoom link prior to the November 9 meeting) or calling Victoria Joly, MAGA Chair, at 416.500.1238. City Councillor Shelley Carroll, MP Han Dong and MPP Vincent Ke are also scheduled to attend, so let's all make a plan to log on, tune in, and speak up.



Have you seen this dog?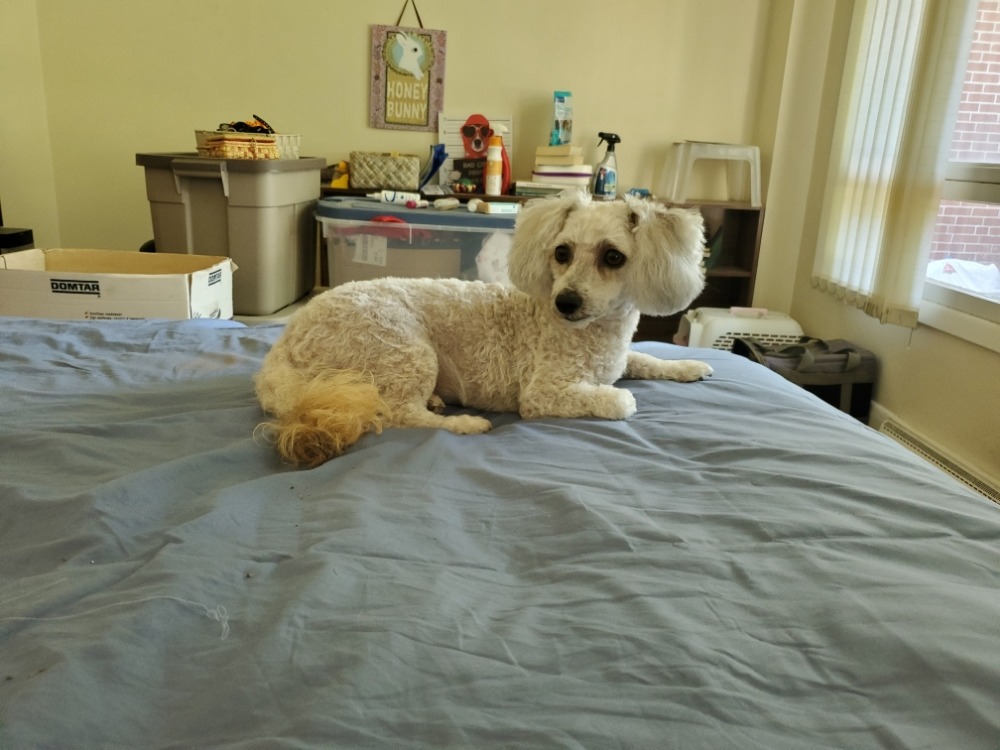 Ted Gladstone at 195 Burbank lost his dog Julie at 8 pm, October 20. If you have any information about this very friendly poodle mix, please contact Ted at 416.525.1111 or
[email protected]
. Reward if found.

Bulbs in Autumn, Blooms in Spring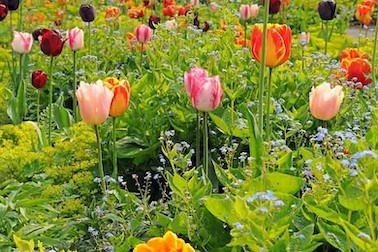 Have you noticed the sudden burst of spring colours at the hardware store lately? Tulip and narcissus bulbs straight from the Netherlands in colourful packaging are assaulting your senses. Ah ha, you think, now is the time for planting bulbs! Before you know it, you're heading home with "Flaming Parrot", "Whispering Dream", and "Queen of Night". Now what do you do? If this is your first foray into planting bulbs, no worries. It's actually quite easy, and the rewards are manifold. You just need elbow grease, a spade, compost or potting soil, and water. And a nice place in your garden to put them. Most bulbs need hardly any attention during the growing season, and many will bloom for several years without you lifting a finger.


What to look for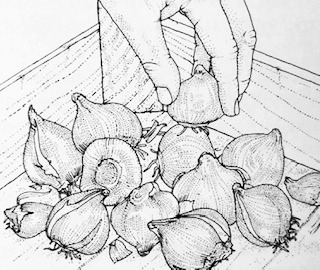 Now that you've seen what's on offer, take a closer look. A bulb should be plump and firm not shrivelled and free of soft spots and mold (mold is usually blue – penicillin – or black to powdery grey). The largest bulbs generally produce the biggest flowers. But smaller bulbs are perfectly adequate for a good garden display. If you are inexperienced in buying bulbs, get a variety of sizes and types and try them out. Once you have purchased the bulbs, plant them immediately or store in a cool, dark, dry place at around 15-17 degrees Celsius. Do not leave them in an airtight bag for any length of time, as they will deteriorate quickly.
When to Plant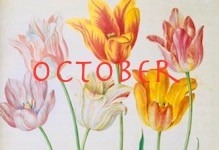 Spring-blooming bulbs, such as tulips, narcissus (e.g. daffodils and jonquils), crocus, grape hyacinths and fritillarias, should be planted in September to October in our region when the soil temperatures have cooled, usually 6 to 8 weeks before a hard, ground-freezing frost is expected. Summer-blooming bulbs such as dahlia and gladiolus are best planted in the spring after all danger of frost has passed. Most irises grow from rhizomes rather than bulbs and should be planted in late summer to early fall. Lily bulbs can be planted in early spring or late fall.
This is also the season for squirrels to eye your tulip bulbs. By late October, though, many have gathered their nuts for the winter and tend to be less active. Usually tulips are planted too deep for squirrels, but if you find a rather intrepid one, then secure chicken wire over your planting area. Or plant bulbs that are not tasty like any number of narcissus and hyacinth varieties.


Where to plant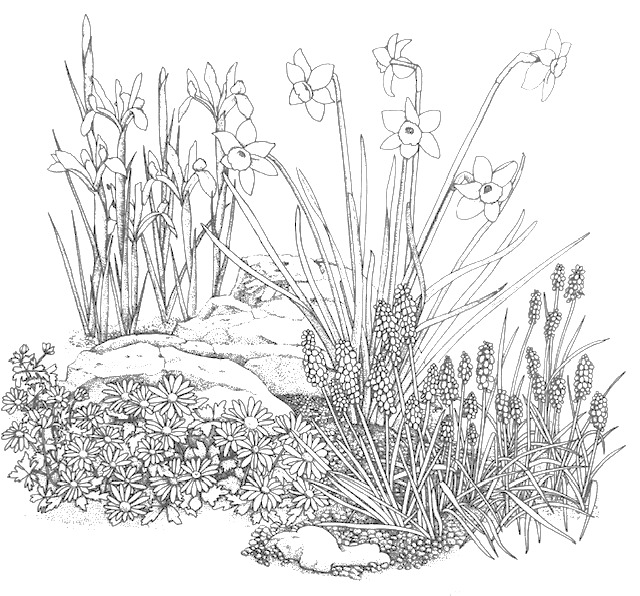 Most bulbs are not too fussy but do best in a sunny location and in well-drained soil that is neutral to slightly acidic with good drainage. Tulips dislike areas with excessive moisture but can tolerate partial shade. Tall varieties of tulips should be sheltered from strong winds using neighbouring plants. Some preferred spots are at the foot of a tree or the edge of a flowerbed or rock garden. A few bulbs like cyclamens, snow drops, bluebells, erythroniums, and winter aconites (with yellow buttercup flowers) prefer shade.
Crocus and narcissus are good for "naturalizing," meaning suitable for being planted randomly anywhere in the yard including the lawn, so that once established they flourish in a natural setting. For this effect, see below on How to Plant. Some bulbs like Siberian squill naturalize so successfully, they will colonize and overtake your yard. You'll be rewarded, however, with a spectacular field of blue in April that retreats within weeks as if it were never there. (More on this and other non-native plants and weeds in later articles.) Bulbs do well in outdoor pots as well. See below in How to Plant for tips.
How to plant
Prepare the ground: Before planting the bulbs, prepare the soil in the area of planting. Loosen dense ground, like clay soil, and add sand to improve drainage if needed. Work in a bit of compost with a cultivator in the planting area.
Dig a planting hole: Make a small but deep hole with a spade or garden trowel and insert the tulip bulb with the tip facing upwards (point up, roots down). Cover with soil and compost, pat down, then water deeply. It's as simple as that.
The hole should be two to three times deeper than the bulb's height. Large bulbs should be planted approximately 6-7 inches (15-17 cm) deep (about a hand's length) and small bulbs approximately 4-5 inches (10-12 cm) deep. Always check the planting instructions that come with the bulbs. Failsafe Tip: Measure the blade of your trowel or spade so you know exactly how far to press into the ground. The blade of a typical garden trowel measures 6-7 inches. Perfect for your tulips!
Planting many bulbs at once: For a large planting, dig out the entire bed to the proper depth, place the bulbs at intervals and cover with soil and compost.
When you are planting several bulbs at a time, make sure there is space between the bulbs. How much space depends on personal taste and the effect that you want to achieve. The recommended spacing is 4 inches (10 cm) apart. But you can actually plant tulips, for instance, in a bouquet style 1 inch apart, so they fan out in spring as they would in a vase. If you wish to have short flowering plants like violets, anemones, and creeping phlox in between the bulbs, space them accordingly. Lily bulbs should be spaced more widely apart than most bulbs to allow for spread and division.
Naturalizing: To naturalize crocuses, daffodils, jonquils, and snowdrops, for example, scatter handfuls of the bulbs casually in an area of the lawn and plant them where they land. For the lawn, use a garden trowel or a metal bulb planter, plunge hard through the turf to the required depth, place the bulb in the hole "point up, roots down", add compost to cover, put the turf back in place, pat down and water – the flowers will grow through the turf in spring. For a larger area, cut out a patch of turf, fold it open, loosen the exposed soil, place the bulbs randomly on the surface, cover with compost, then roll the turf back over the area. Pat down and water.
Containers: You can grow virtually any bulb in containers. Use a container with drainage holes so that excess water can escape. Most spring-blooming bulbs prefer well-drained soil and will rot and die if they stay too wet for too long. Fill your container with a high-quality potting mix and plant your bulbs as deep as you would in the ground. Water your bulbs well after planting. For winter protection, make sure the container is big enough to allow several inches of soil around the outer bulbs. Wrap any vulnerable containers, like terra cotta, from breakage in freezing temperatures with burlap. The alternative to fall planting in containers is to wait for spring and buy bulbs that are just budding from the nursery and place in containers directly with other plants.
 Water: After planting when the bulbs are fully covered with soil, water deeply in order to reach the roots and firm up the soil around the bulbs. Use a soaker hose or a slow stream from a regular hose. Water one more time before first frost. The roots will continue to grow deep in the ground (away from frost) through winter. To give the bulbs some extra protection against a severe winter, put leaves or mulch over the planting area. The flowers will grow through this cover in spring.


How to design a bulb garden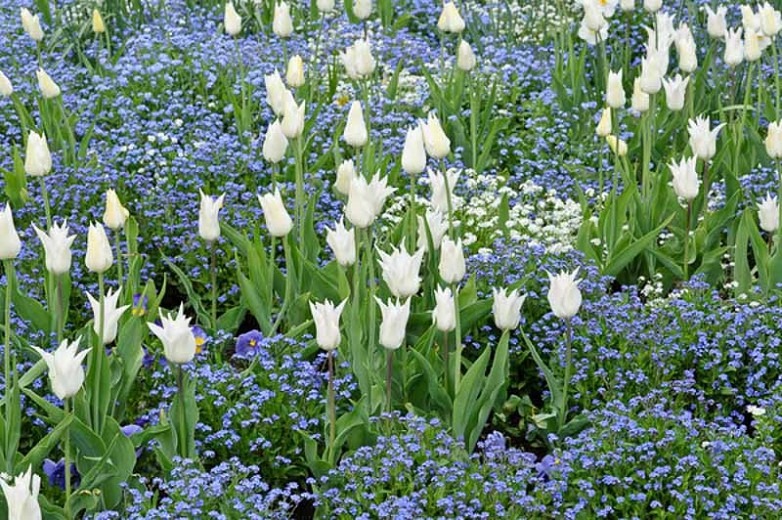 Designing your bulb flower garden depends entirely on personal taste, the type of soil, the amount of sunlight, and the given landscape. Use colour and height to group like flowers together or work with their differences to advantage. For example, plant taller flowers amongst shorter ones of a different colour or shade. Use bright colours to accentuate a darker background or a rock garden that looks sombre in spring. When grouping, a carefree pattern of planting gives an attractive display. Remember that spring-blooming bulbs bloom quite briefly, so make sure they have neighbours that can carry on a colour or landscaping scheme later in the season. Decorate your deck, patio, or front porch with spring-blooming bulbs in containers, nestled in with your favourite container plants. You can also make a "Bulb Lasagne" by layering different types of bulbs at different depths and times of flowering.
When your work is done, warm up inside and tuck into a cup of hot chocolate, put your legs up and enjoy the thought that just around the corner is winter … wait, skip that … just around the corner are your beautiful, fabulous spring blooms!